A lot of very formal events are going on all day.
But later on all Finns gather around their TVs

! We just have to watch this live program every year!!
"In the evening, a
gala reception
is held for approximately 2000 invited guests at the Presidential Palace. This event, known as
Linnan juhlat
("the party at the castle") is broadcast on national television and has been a perennial favorite of the viewing public. The first presidential ball was organised in 1919 and the event has been held on most years ever since.
The most popular television segment of the Independence day reception is the
entrance of the guests
. These include persons who receive invitations every year, including the knights of the Mannerheim Cross (traditionally the first ones to enter), members of the Government and the Parliament of Finland, archbishops, judges, high military and police officers and various diplomats and dignitaries. The second group includes people of the President's own choosing, typically entertainers, activists, sportspersons, and in general, people who have been in the spotlight over the past year. The last people to enter are always the previous presidents."
This will be broadcasted on internet TV all over the world starting 18.30 Finnish time
http://areena.yle.fi/live
Have a look then, we will for sure

. The main thing is to watch who is wearing what and who does something odd or who falls over or makes a fool of themslevs in some other way
Ever since Juha got knighted I have been so scared of this event - one day it will be his turn to be invited - avec

What am I going to do THEN??????????????????????? OMG.........................

caysa




Posts

: 13628


Join date

: 2009-04-03


Age

: 65


Location

: Nummi-Pusula, Finland



HAPPY BIRTHDAY TO FINLAND AND WISH THE LUCK TO FINNS!









AllyKass




Posts

: 11360


Join date

: 2009-04-11


Location

: Estonia



one of my internet friend living in moscow, spoke of how our athletes,"the olympic silver "jaansons wife, who is from moscow and the russian, it is also frightfully worried sick before "penguins parade", which to wear, but later saw on TV that jüri jaanson wear estonian national suit and his wife tatjna were wearing russian national costume "sarafan" and the media and the press gave them great, so that did not make sense at all jitter


AllyKass




Posts

: 11360


Join date

: 2009-04-11


Location

: Estonia



CAYSA!! Ever since Juha got knighted ???? Have we been told about this? How impressive!
By all means we have to start thinking about a dress for you when you get the invitation.

It is never too soon to start preparing for such a gala!

Bisky




Posts

: 3964


Join date

: 2009-04-05


Location

: Illinois, USA



All the best to all Finns on Finland´s Birthday!!!



WOW, Juha is a kinght?!

Didn´t know that before...

Ricky




Posts

: 9248


Join date

: 2009-04-03


Location

: Austria



Hmm yes, Juha is knighted, a few years back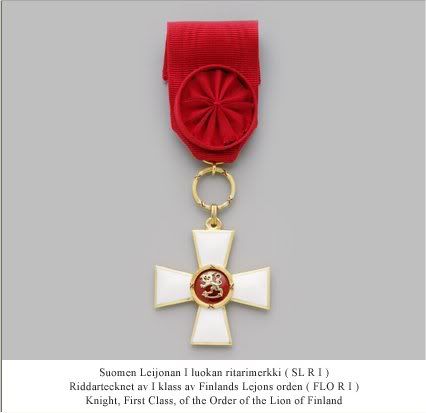 It's not THAT a big deal but still..... one day he WILL BE invited to that presidential party

http://en.wikipedia.org/wiki/Order_of_the_Lion_of_Finland

caysa




Posts

: 13628


Join date

: 2009-04-03


Age

: 65


Location

: Nummi-Pusula, Finland



Today at 18.00 almost all homes have 2 white and blue candles lit.
As typical Finns we take this very seriosly. There is no fire works and celebrations in the street. Only FUN is the presidential ball - and that IS hilarious to watch

Estonian and Hungarian members in particular will understand what it means to be independent....

caysa




Posts

: 13628


Join date

: 2009-04-03


Age

: 65


Location

: Nummi-Pusula, Finland





Similar topics
---
Permissions in this forum:
You
cannot
reply to topics in this forum